We cover all forms of pest control including Rats, Mice, American Cockroaches, German Cockroaches, Oriental Cockroaches, Garden Ants, Ghost Ants, Pharaoh's Ants, Fleas, Bed Bugs, French Wasps, Wasps, Bees, Flies, Squirrels, Foxes, Birds, Pigeons, Clothes Moths, Brown House Moths, Indian Meal Moths, Lesser Mealworm Beetles, Larder Beetles, Biscuit Beetles and Carpet Beetles. To view more information about pests please visit our Pest Knowledge Base.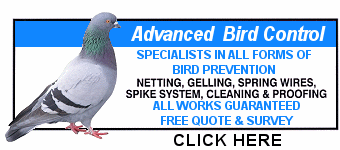 Call us on 07970 454573
Available 24 hours a day, 7 days a week.
Local Professional Company Established 1987
We cover South Essex plus East, South East, Central, West, South West, South, North and North West London.
Reliable Pest Control & Extermination Services

We offer a professional pest control solution for the London and Essex areas. If you are having problems with a pest, then Pest Control London can help.

If you notice that you have a pest in your home or work place then call Pest Control London for our professional pest control services.

We provide specialist access teams to allow access to any exterior part of your building to carry out bird proofing and general maintenance. We can provide maintenance covering wall coatings, re-pointing, and applying mastic.
Pest Removal - A Professional Pest Removal Service

Our pest control technicians are experts in dealing with pests such as bed bugs, rats, mice, cockroaches, carpet beetles, squirrels, fleas, ants, wasps and foxes.

We specialise in the control and treatment of bed bugs. Bed Bugs London, If you have a problem with bed bugs in the London and Essex area, call us to have them erradicated as soon as possible.

We offer a pest control services on contract for all your commerical pest control needs in London and Essex. We also offer individual pest control treatments for residential and commercial properties.

When dealing with pests we use an appropriate safe insecticide. All pest control services are carried out in accordance with health and safety regulations.

Pest Control London Services - Get Expert Assistance Today

We at Pest Control London are specialists in the control of all pests, from pest removal to bird & pigeon prevention.

We supply and fit all types of bird proofing including bird netting, bird spikes and spring wires to prevent pigeons and other birds roosting on buildings. Bird Control London
Bird prevention along with our pest control services are available throughout London and Essex.
Call us for more information today on 07970 454573.
We cover all forms of Pest Control in London and Essex, Rats, Mice, Cockroaches, Ants, Fleas, Bed Bugs, French Wasps, Wasps, Bees, Flies, Squirrels, Foxes, Birds, Pigeons, Moths and Carpet Beetles.
All pest control works carried out in accordance with the Health & Safety Act 1974, the COSHH Regulations 1988, The food & Environmental Act 1985 and Control of Pesticides 1986.
Our company has been established since 1987, with a Public Liability at £5,000,000 (Higher can be arranged).
All of our vehicles are unmarked for discretion and we also provide a 24 hour personnel contact all year round.

We are prepared to undertake any one off treatments, also tendering for Contractual works and referrals to Local Residential and Commercial organisations.

Should the need arise for any of our pest control services, please do not hesitate to contact us for a FREE Quote or Survey.

All of our Pest Control services are subject to our Terms and Conditions

Architectural Terminology
Useful Links

Control of Substances Hazardous to Health (COSHH) - The Control of Pesticides Regulations 1997
British Pest Control Association - Royal Society for Public Health - Health and Safety Assessment Scheme

Bed Bugs London - Professional Bed Bugs Control

Pest Control Islington - Professional Pest Control in Islington

Pest Control Manchester - Professional Pest Control in Manchester




DBS Enhanced Disclosure


Safe Use of Rodenticides Cetificate


BPCA Certificate


Covid 19 Risk Assessment
Please leave feedback on Checkatrade.com Click here
Our pest control services are available throughout London. We cover North London, South London and Central London
We provide a Bed Bugs treatment and control service in London as well as Pest Control in East London, West London and Essex. Bird Proofing and Pest Control Services available in London and Essex.